Keynote Speaker — Robyn T Braley
Conference Keynotes, Seminars, and Breakouts
Conference and meeting planners want a keynote speaker who will leave the audience asking for more. Robyn Braley weaves stories about real people doing real things into each presentation. Attendees leave with knowledge, ideas and tips for moving their organization to the next level. He helps them discover "Ah Ha!" moments.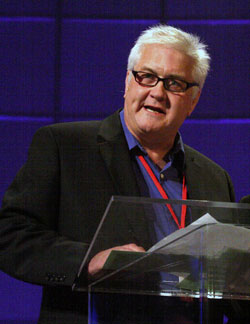 Keynote Speaker
Robyn Braley is a keynote speaker who delivers the goods with enthusiasm and passion. He shares practical information about marketing, branding, sales, and leadership. His seminars and business writing is a natural offshoot from working with clients in retail and industrial sectors for more than 30 years.  
Robyn presents information in a light, entertaining, and engaging way that informs while motivating people to make real change in their personal lives and in their businesses. His seminars are packed full of information that energizes audiences and is ready to implement.
Business owners, senior executives, and front line managers want to equip themselves and their teams to be better at what they do. Most are searching for solutions to marketing problems they are dealing with now.
Employee Training
Effective training helps employees improve their performance. Training programs should not only teach employees "what to do" and "how to do it," but also "why." Training that teaches "why" equips, enables, and empowers team members to perform at their best. Robyn leans on the resources of Unimark Creative to write and produce complimentary videos and manuals.
Not-For-Profit
Unimark Creative has developed successful marketing programs for leading mainstream and faith based organizations. Robyn has adapted relevant seminars from above for NFP applications. The Radiothon and Sponsorship seminars are for NFP only.